In 1930 the lads of the salvage vessel Artiglio were on a high. The best-equipped vessel of Genoa's Società Ricuperi Marittimi, Artiglio had just distinguished itself by discovering the resting place of P&O liner SS Egypt. Laden with silver and gold, Egypt's wreck had been hunted for eight years without success. And now So.Ri.Ma – the only salvage firm to be their own jingle – had found her and caused a media sensation.
What Artiglio hadn't done so far, however, was to actually recover any of the Egypt's fabulous loot. The Bay of Biscay is bad enough at the best of times, and autumn storms are emphatically not the best of times. It was time to head for port and to lay up for winter.
Or almost lay up for winter. Rather than kicking their heels for the next 6 months, Artiglio headed to Quiberon Bay for one last job. In 1918 the American steamer Florence H had sank in an awkward position, and that awkwardness was not materially relieved by the shipwreck's cargo of highly dangerous guncotton. The Italians were tasked with removing it.
It probably came as no comfort to the crew of Artiglio that they were 100% successful in this ambition.
Originally a fish carrier for the Hull fishing fleet*, and subsequently requisitioned as a minesweeper, by 1930 the Clyde-built steamer belonged to So.Ri.Ma. And they had turned Artiglio into a crack salvage vessel. A host of innovations meant its crew could work deeper, more safely, and had more experience than almost anyone else. It's possibly for this reason that nobody questioned their plan.
And the plan was a doozy. Assuming (wrongly, as it emerged) that the guncotton would have long since been rendered inert, the Italians rigged explosive charges to break up the wreck. Again, it's unlikely to be much comfort that this too was to be 100% successful.
It's possible that somebody did think to question their decision to anchor virtually on top of said explosives. On the other hand they had anchored themselves on top of a load of explosives. Would you volunteer to pop over and ask them?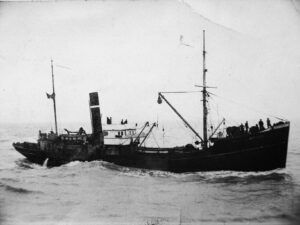 When it came, the end was as spectacular as it was predictable. The explosives did their thing. The guncotton fulfilled its ultimate destiny of becoming a rapidly expanding ball of angry gas. The sea is described as "rising like a bubble" with a broken Artiglio on top of it – no longer the most advanced salvage ship in the world, but certainly (if briefly) its most surprised. In the spirit of fairness, by the way, other reports suggest that Artiglio was 200 yards away when the blast went up. And presumably accelerating fast.
At root was likely a misunderstanding about guncotton. With increasing amounts of water guncotton does become harder to set on fire, and it's hard to imagine a damper state than inside a sunken shipwreck. Unfortunately though its ability to go energetically batshit when shocked remains unaffected. At least 14 crew members died in the impromptu chemistry lesson. Incredibly somewhere between five and seven crew survived. The state of Florence H afterwards is unrecorded amongst the excitement.
And nobody ever again made the mistake of salvaging ships loaded with explosives by adding yet more explosives.
Only kidding: SS Kielce registered 4.5 on the Richter Scale when the Folkestone Salvage Company pulled the same stunt. And there's probably somebody musing about creating millions of pounds of improvements to Sheerness by provoking the SS Richard Montgomery as I write…
*Joining the fleet in 1906 and then named Macbeth, the future Artiglio was just too late to encounter Kamchatka, the legendary Russian Witchfinder General of torpedo boatage