"Dread! Mainsheet and kicker, then give me some topping lift."
Bang them off. On the winch. Six inches or so. Clear the winch. Swing to the side and oh god, Dave, wait on the bloody mainsail until I say I'm ready- Never mind, got it cleared and now I'm on the winch for the last bit of tension. Back across. Topping lift eased. Mainsheet back on. Tight, and give the kicker a yank because it looks bloody awful. And relax – because we are about to go sailing. Two days ago I barely recognised half these words and this is the first time I've been in the cockpit doing this, but right now I'm in the middle of this complex choreography and I am dancing.
---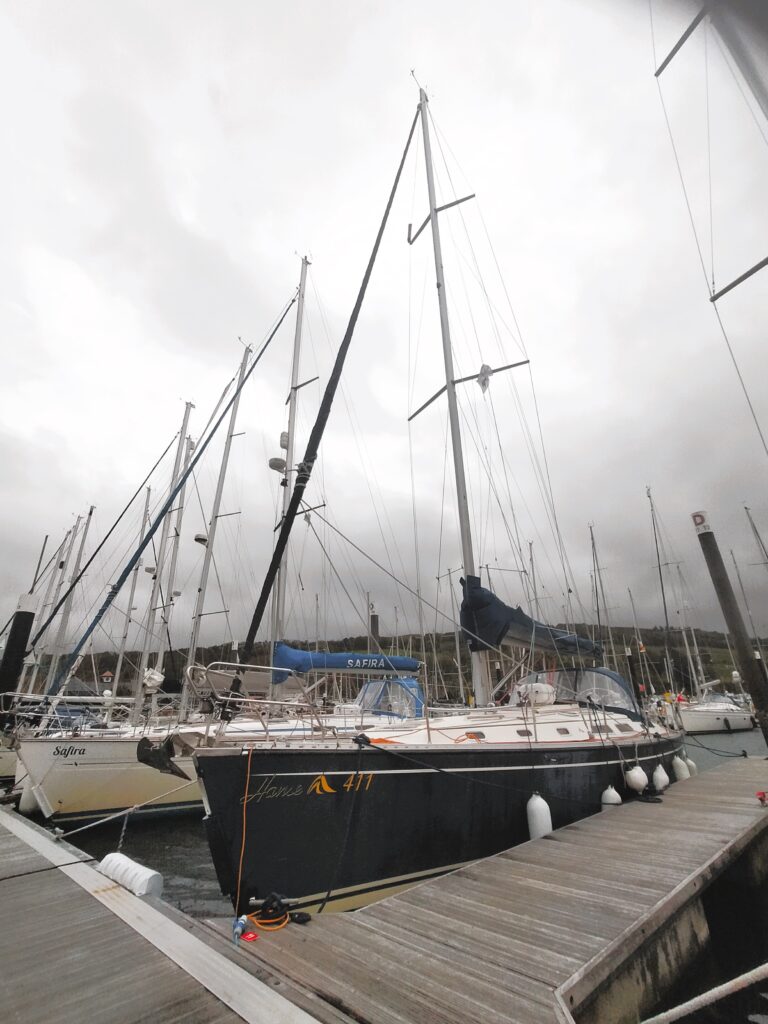 It's our first night aboard, and we're talking about our experience levels and ambitions for the course. David, our instructor, has thirty years and god knows how many miles under his keel. Matt is supposedly doing a coastal skipper course, but has turned up two hours late and hasn't looked at the weather forecast or thought about where he'd like to go. It soon becomes apparent he's mostly here for the mileage.
The rest are all doing comp crew like me. Justin has crewed for mates and now wants to know why he was pulling those ropes for them. Jake last sailed 25 years ago and wants to relearn what little he knew. And Carl has just bought his second boat. It sounds like it's a bit late to be worrying about competency and he has the grace to laugh when I ask if he was drunk on the internet. He basically was. I like them all instantly. And me? I'm just somebody who laughs at funny warships. I'll be happy if I manage to avoid falling over the side.
Dominating our discussion is the forecast. We're lying in Largs on the Firth of Clyde, and whilst on average we'll have the perfect wind for sailing all week, the weather gods have decreed that we'll imperfectly receive it either all at once or not at all. Given the demands of Matt's coastal skipper syllabus, David would usually give the comp crew chance to build their basic skills for a couple of days and then head for Campbeltown on the Kintyre peninsula.
The outlook though rules Campbeltown out entirely – even a fool like me can see the risk of a long, hard struggle back into the wind that's coming at the end of the week. Instead Matt and David agree to head up the Clyde. That positions us for whatever it brings, and we'll salvage what we can.
---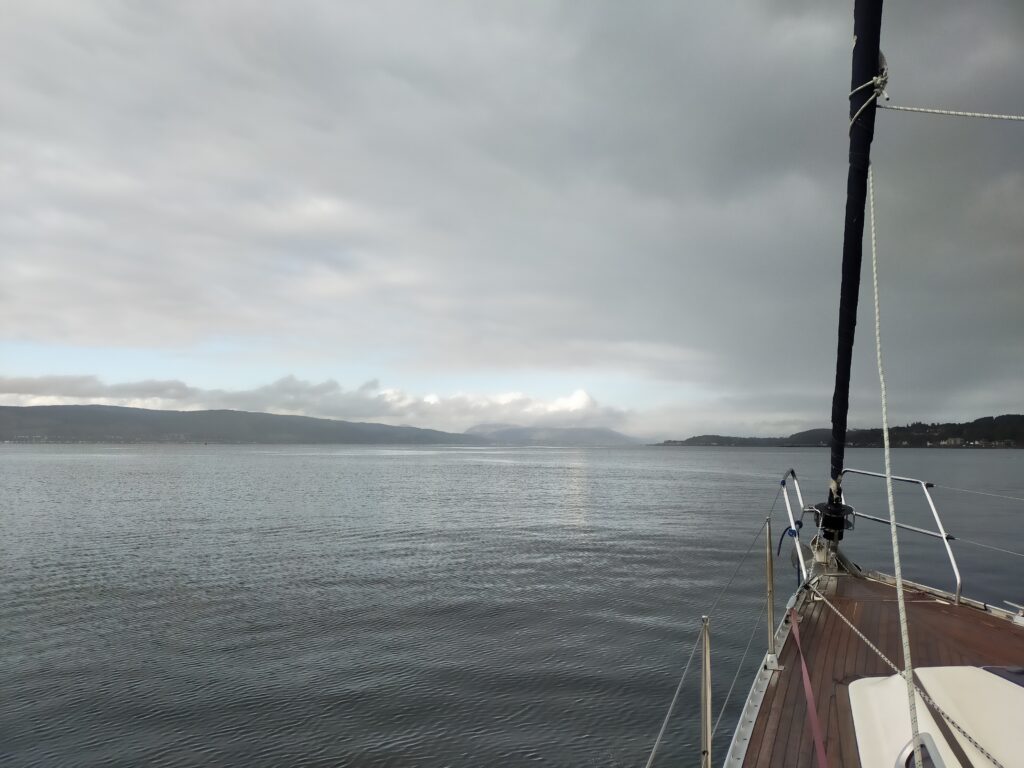 Our first task in the morning is for Justin and me to buy provisions for the week. Never mind navigating a boat, Justin and I struggle with Morrisons. I complain it's like shopping with a toddler. Justin complains it's like going shopping with his dad. We try to pretend we're responsible adults by including some fruit. By the end of the week I think somebody amongst us might have gone so far as to have eaten a satsuma. It's that kind of a crew.
Back at the boat it all gets stowed. David complains about quantities, saying we'll never eat it all. I know that, Dave – we included fruit and we all know that's just decoration. Breakfast gets made and eaten, and then it's onto the lessons – starting with the basic information about how not to kill yourself. At this point my relative lack of experience falls away. I've spent my whole life not dying. So has everyone else. Call it a dead heat.
What we don't have, however, is wind. So when Bolero and its crew of varying competence slips its lines and heads out of the marina we're greeted by nothing but a flat calm sea and – slightly more welcome – a pod of porpoises. A long motor up to Rhu, at the entrance to Gare Loch and Faslane, is enlivened only by a brief stop to hoist the main and an abortive attempt to sail.
I do however get to take the wheel for a while and spot my first warships – HMS Raider comes blasting past, and as we switch radio to monitor the King's Harbour Master we hear HMS Severn apparently preparing to take a pilot. As we slip into Rhu for the night it passes through the gloaming and I smile as I notice the Western Approaches camouflage doing its job nicely.
---
The next day we wake to the first stirrings of a storm that will absolutely batter the east coast of Scotland. We make the most of the final calm weather to play around in the tender, and I smugly spin the thing around like a top and then take a casual tour of the marina. I might not have sailed before, but here I'm in my element.
My pride is only slightly dented when Carl's method of arriving at the stern – prepare for ramming speed and then grab whatever you can – turns out to be both more effective into the wind and, damn him, more elegant than mine. Apparently some tricks that you learn in the Royal Navy never leave you.
After a slightly inelegant departure by Matt – my sardonically-taken roving fender proving unexpectedly useful – we grab both a mooring and lunch before heading off to learn to tack and gybe in the rising wind. I rapidly conclude that seasickness isn't a problem but that becoming dizzy might well be. The artificial intensity of it – outside of racing nobody sane will be steering that many course alterations – slowly wears everyone out, and by the time we drop the sails and head for Greenock we're mostly whacked.
---
What comes next is the first of many moments of self-realisation. I had taken the helm whilst they stowed the sails, and now took the boat across to the main channel and up to James Watt Marina.
"Do you want to take it in?"
"Sure."
"It's narrow…"
"Yeah, but there's little tide and the wind's gone dead again. Just shout if you're worried, David."
"Well it sounds like you know what you're doing. We'll just go and take a look, and then we'll work out how to get in."
I take the boat through the old lock at walking pace, and we see the berth usually taken by a sailing trust is empty. If it could be ours for the night it would be ideal. David's on the radio and gets the affirmative just as we arrive at the necessary turning point. Forget working things out – I hear it for myself and swing the wheel over at the same time as David starts to gesture for me to do so, and under tuition £90k of sailing boat arrives sweetly on the pontoon. I've docked a yacht for the first time.
Afterwards, as the tiredness hits me, I realise I've been at the wheel for two hours. And that I might not only be okay at this lark, but that I might surprise myself. Matt surprises us too. With a deteriorating forecast and little prospect of knocking up serious mileage he jumps ship. I don't mind. Half an hour ago I felt like a skipper for the first time. And I now have a private cabin to myself.
---
On Wednesday we wake to a mixed bag on the forecasting front. In the short term we've got force 5-6 and gusting up to 8, which means we can still go and play. But by the end of the week we need to be in Largs. It's a pig to get into in an easterly, and there's a window opening on Thursday evening before all hell then breaks loose on Friday. We know we can get a beer tonight in Inverkip. The passage plan for the next two days writes itself.
We spend the morning practicing rigging lines and springing off in the wind. Everyone gets to take their turn at taking the boat in. I don't take mine – I can already see fatigue kicking in, and I'll get less benefit from doing so than the cost it'll extract. David is basically playing for time, and as we cook lunch I get to see why – outside wind is fighting tide, and somebody more foolish is getting absolutely mullered by the resulting swell. I suspect it was worth it though. Dolphins are breaching all around them.
Under a third reef and scrap of headsail we practice a desultory series of tacks and gybes as the tide eases and then run down to Inverkip. The artificiality of the manoeuvres and tiredness gets to me. I make a seemingly endless series of silly errors and tell myself I'll learn from them all. By the time we're safely enjoying a beer I might even believe it. And after the second beer and a good chat with David, I already have.
---
On Thursday morning I have another of those little moments. As I give the topping lift a tug back upwards to finish it hits me that I've prepared the whole boat for sea on my own and without any supervision. Just 48 hours ago I still hadn't actually sailed. It's fair to say I wasn't expecting this. I like having the knowledge. I'm loving having the responsibility.
David runs through the last few bits of the competent crew syllabus, including demonstrating the man overboard procedure to a disinterested seal. It seems unconcerned by our inability to snag the buoy on our first pass. It's not much bothered by our success on the second. We are though – it means that, paperwork aside – we've all completed the course.
"You're all now competent," announces David as the boat idles into the wind. "It's about two hours sailing to Largs, you know where it is and what you're doing – the boat is yours."
I'm on the wheel like a shot. Let's find out how competent we really are. "We're leaving on a port tack. Jake, get that main sheet back in. Carl, Justin – once we've got the bows round give me about half the headsail, and Jake, it's a beam reach so ease it out as we go." I feel the main fill as they set to work and I kill the engine. David nods his head, smiles, and wanders below to leave us to it.
"Lads – we're going sailing."
I feel the smile break out across my face.
I've got this.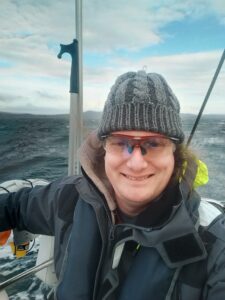 ---
And on Friday morning, as we get the boat cleaned and ready for her next voyage, I think about this crew. Justin, spending the first two nights crashing through his berth before any of us thought to read the instructions for rigging it. Jake, with a big goofy grin on his face after I reefed the headsail further and suddenly turned helming into a joy on the long reach down past Wemyss Bay. And Carl, off to his new boat in north Wales. He's got his essential navigational training already booked in directly with David, who should be curled up happily with his beloved cat as I'm writing this. It was great to spend time with them all.
And I'd really recommend doing a course like this even if you already can sail a bit. We went well beyond the syllabus itself, and as Carl and I pumped David with questions I got to benefit hugely from Carl's experience – as, I hope, he did from my more theoretical background and the questions that I asked. All of us learnt far more together than we would have apart, and David was generous with his knowledge.
---
"It'd be a real shame if you didn't carry on," said David, as I took my leave and thanked him. "You've got a real aptitude for it."
Don't worry, Dave. I've got this. Lads – we're going sailing.